Located in Bengaluru's best-performing commercial office sub-market, Embassy TechVillage ("ETV") is a large-scale best-in-class integrated office park that spans over 84 acres and derives 88% of gross rentals from multinational occupiers.
---
Key Statistics
2008 Year of commencement

84.05 acres Site area

9.2 msf Leasable area

₹119,253 mnMarket value

7.3 msf Completed area

98.0% Occupancy

45 Occupiers

2.3 msf Development area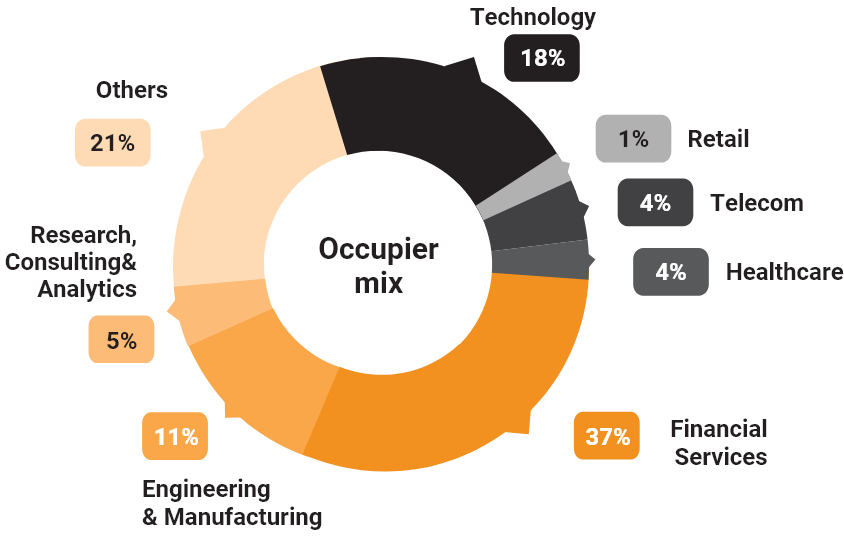 *All data as of September 30, 2022
Location
Embassy TechVillage is the largest operational office park in Bengaluru. It is located in North Bengaluru, a prominent growth corridor, which connects the international airport to the city centre.`
Green Campus
At Embassy TechVillage Business Park, Bengaluru we have taken numerous initiatives to make our building environment-friendly:
Rainwater harvesting capacity of 1565

Renewable Energy wheeling from Solar power park

Organic Waste Convertor of capacity 1000 kg/day and vermicompost

Total Sewage Treatment Plant capacity 2260 KLD

Recycling and waste management initiatives:

Recycled water used for flushing, gardening & HVAC

Compact OWC is used for converting the food waste into manure

Landscaping waste is converted in to vermicompost

Roof top solar capacity 21 (Kw)

Green Initiatives:

Implemented Urban Green Programme and harvested 725 kg of vegetables & fruits

Air Inflators installed at the parks to maintain vehicle tyre air pressure

Number of trees planted in the park
Embassy TechVillage Master Plan
The park has a completed area of 11.8 msf and offers an integrated "business ecosystem" to its occupiers. It houses 68 tenants with more than 100,000 park users.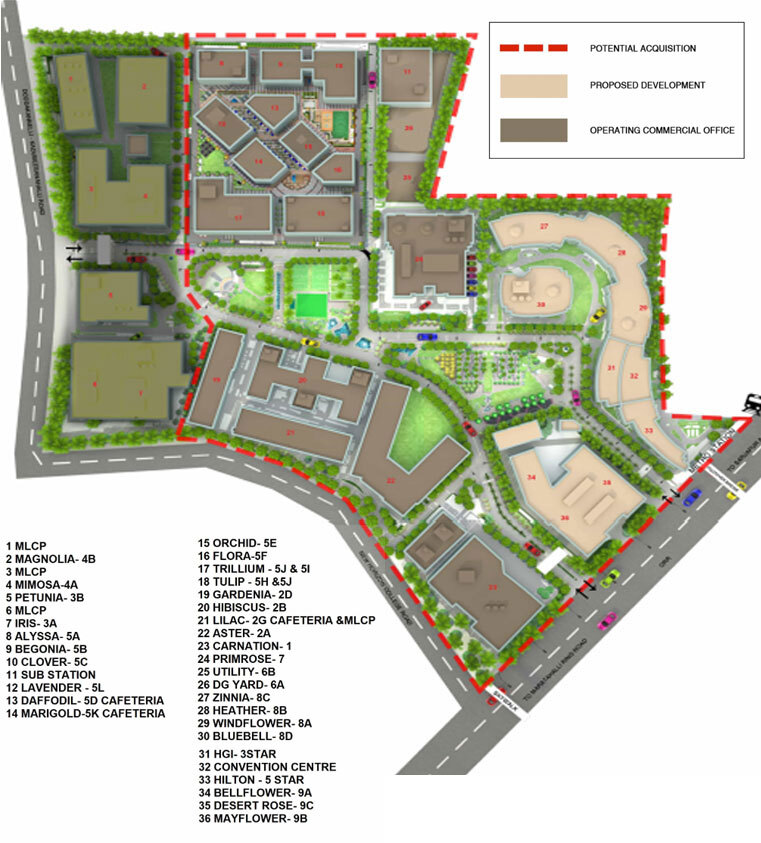 Office Space Availability
Premises
Area
Status
Floor
Timeline

NON - SEZ

Silver Oak (E2)
36,413 sq. ft.
Furnished
7th Floor
Nov 2020
Silver Oak (E2)
37,779 sq. ft.
Furnished
4rd Floor
Mar 2021
Silver Oak (E2)
37,779 sq. ft.
Warm shell
3rd Floor
Immediate
Silver Oak (E2)
32,262 sq. ft.
Furnished
1th Floor
Nov 2020
Silver Fur (L6)
38,696 sq. ft.
Furnished
8th Floor
Nov 2020
Silver Fur (L6)
44,652 sq. ft.
Furnished
9th & 10th Floors
Nov 2020
Embassy NXT T1
84,705 sq. ft.
Warm shell
9th & 10th Floors
Immediate
Embassy NXT T1
44,367 sq. ft.
Warm shell
8th Floor
Immediate
Embassy NXT T2
57,419 sq. ft.
Warm shell
1st & 2nd Floor
Immediate
MFAR
39,720 sq. ft.
Warm shell
6th Floor
Feb 2021

SEZ

Mountain Ash (H2)
19,332 sq. ft.
Furnished
1st Floor
Nov 2020
Elm (C4)
44,711 sq. ft.
Warm Shell
6th Floor
Immediate
Elm (C4)
47,482 sq. ft.
Warm Shell
5th Floor
Immediate
Elm (C4)
31,994 sq. ft.
Warm Shell
Ground floor
Jan 2021
Hazel (L3)
55,224 sq. ft.
Furnished
10th Floor
Mar 2021
Hazel (L3)
27,088 sq. ft.
Furnished
Part 9th Floor
Mar 2021
Amenities
In Embassy TechVillage
Medical Centre & Pharmacy
Cult-fit, Starbucks, and
Klay Daycare Centre
Transport
Campus Internal Shuttle Service
24/7 Ambulance
Ambulance services inside the campus
Ongoing Projects - Embassy TechVillage
Parcel 8 is a mixed-use development project with 1.8 M Sft split in Four Office Towers, Hilton Hotel, Hilton Garden Inn along with Conferencing facilities. The project is facing the Outer Ring Road and shall have direct connectivity to the proposed Metro Station which will not only ease the commute to Embassy Tech Village but will also contribute in reduction of carbon footprint. Partnering with the Leading International & Domestic Consultants for the state of the art design features, it is aspired to make the best proposed Mixed Use Parcel of Bangalore.
Perspective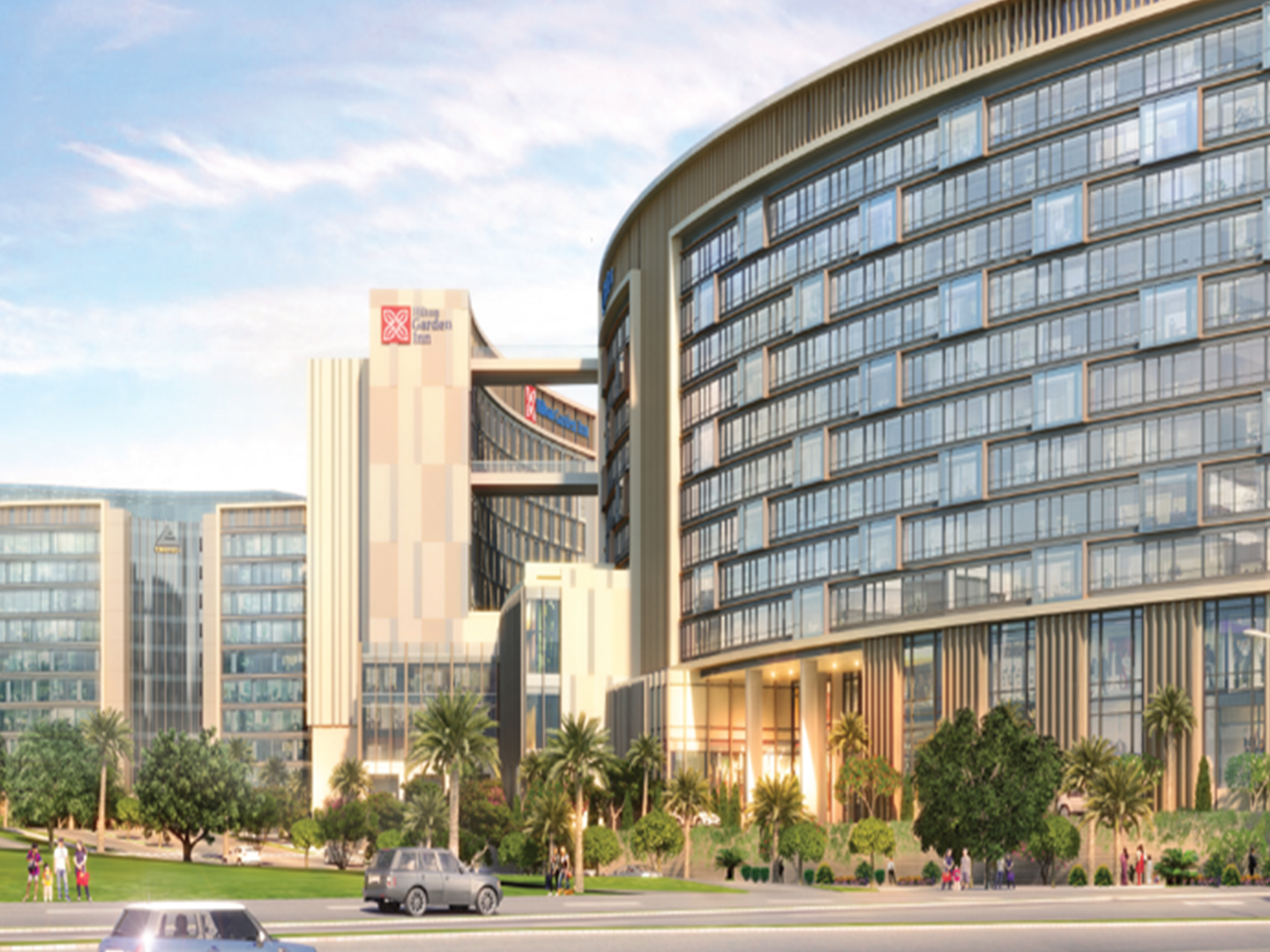 Being located at the entrance of Embassy Tech Village on Outer Ring Road, it offers the highest visibility and frontage to the Occupier. This Built to Suite project spans over 1.1 M Sft of leasable area, boasts 3 interconnected towers and a dedicated service block with all around glass facade and best in class specification.
Current Development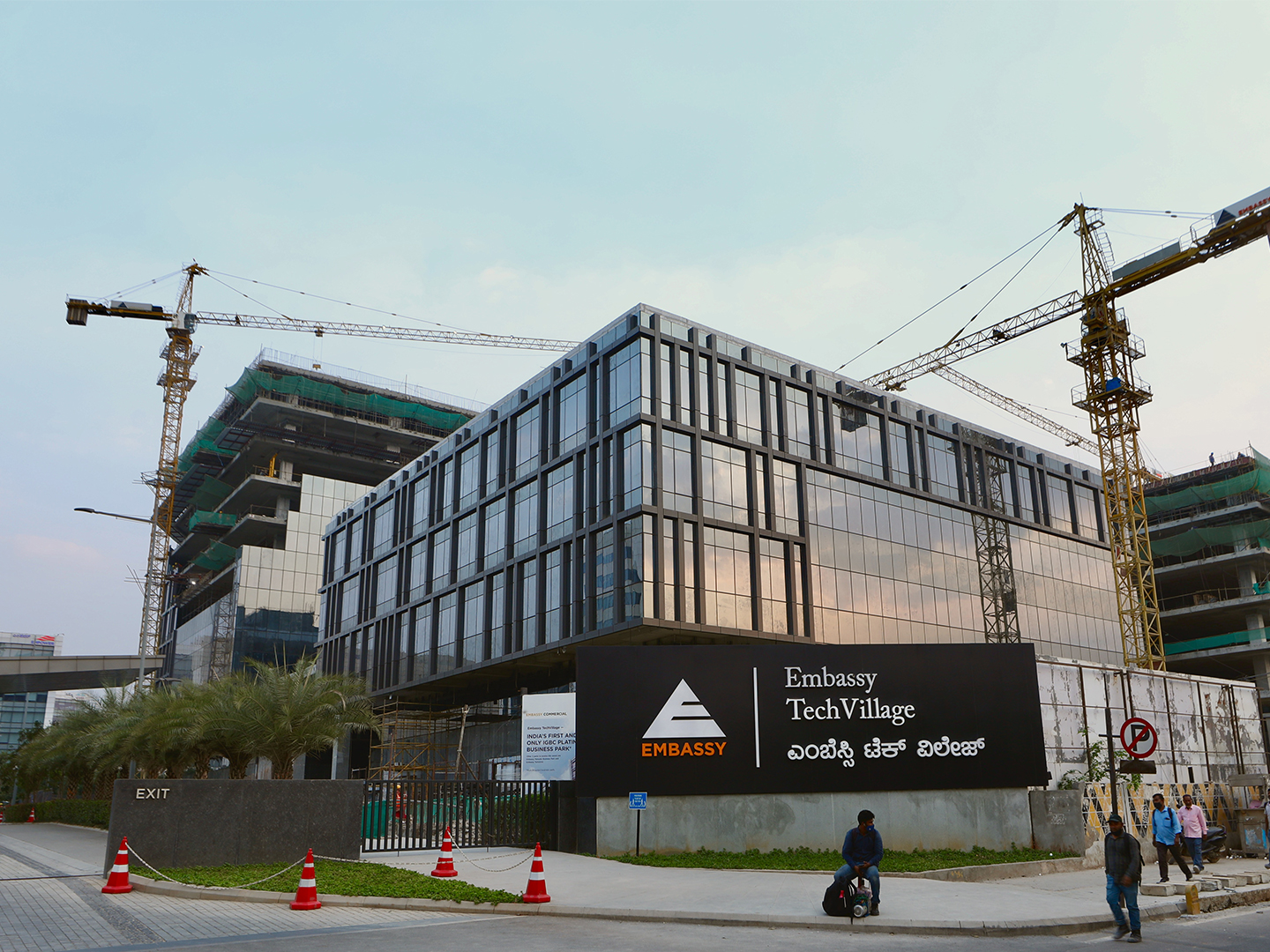 Perspective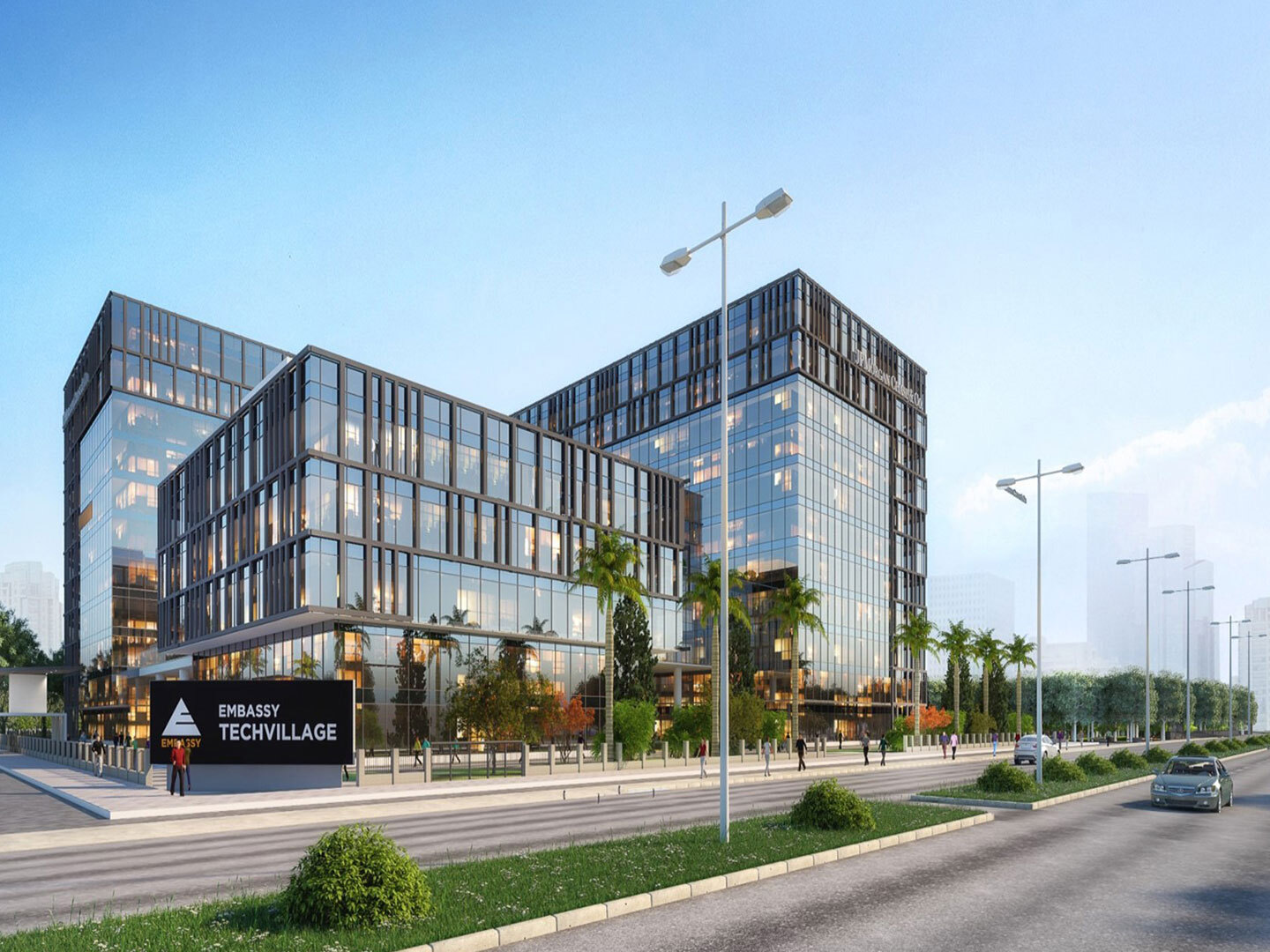 Proposed Central Garden will be the center point of Embassy Tech Village with lush green open spaces and contemporary amenities such as food kiosks, sports zones and several collaborative zones which will be accessible from all corners of the Tech Park. The proposed skywalk will enable smooth and safe movement of people across the Outer Ring Road entering Embassy TechVillage.
Current Development
Perspective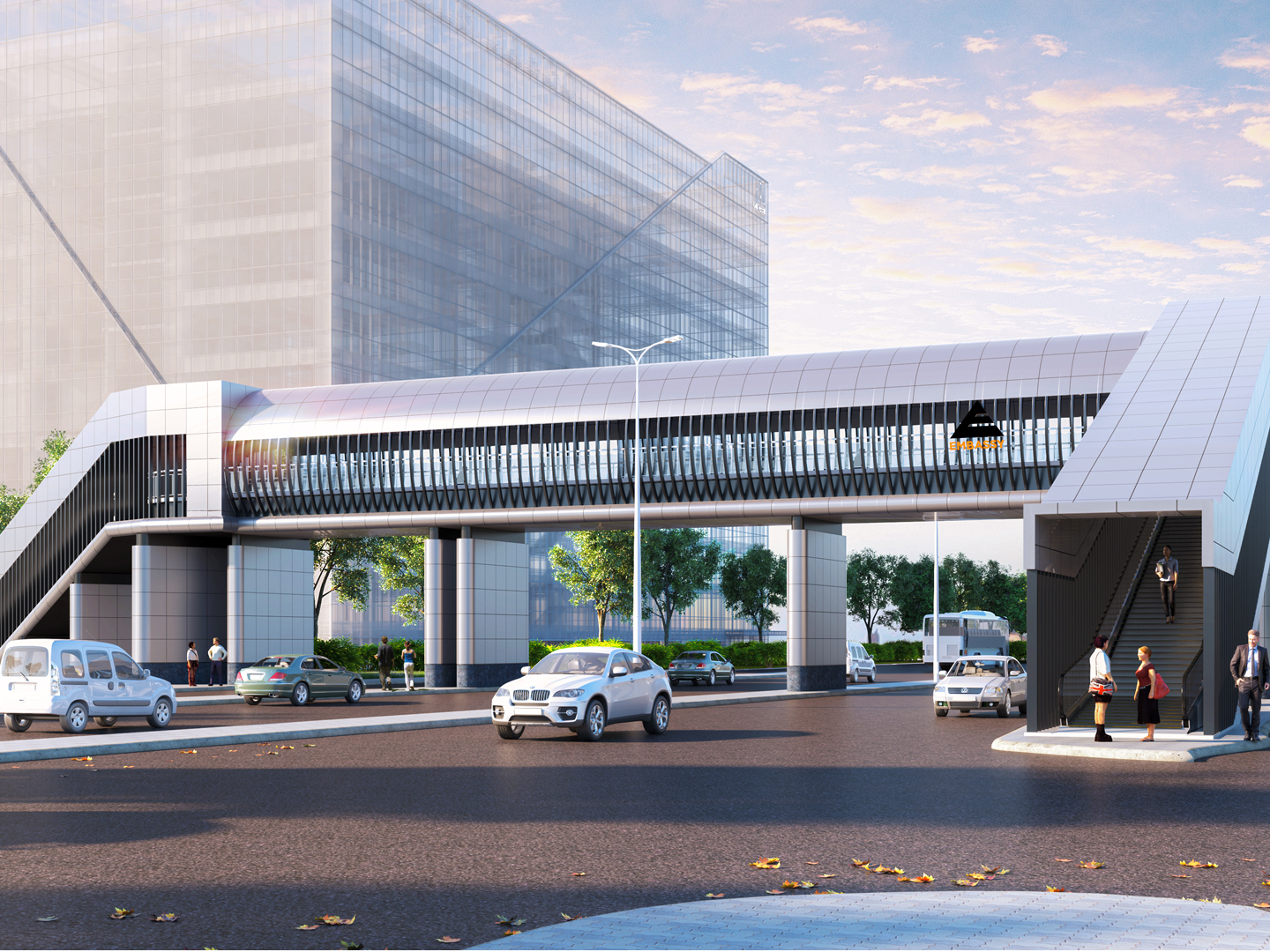 Contact Us
Address
Embassy TechVillage Business Park
Outer Ring Rd, Near New Horizon College,
Devarabisanahalli, Kadabeesanahalli,
Bengaluru, Karnataka 560103


+91 80 3322 0000/2222