Overview
Embassy REIT's focus areas for social development include the spheres of education and health. As part of our 'Embassy REIT' Corporate Connect Programme, we bring together corporate leaders from across the private and public sectors on a common platform to discuss and work towards shared challenges and visions. Through this programme, we have partnered with 21 corporates for 41 projects in the areas of health, education, and public infrastructure.

Educate

Engage

Empower

Enhance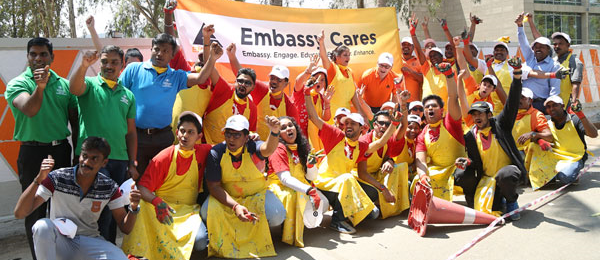 Our Vision
To build a sustainable ecosystem and contribute actively to the social, economic, and environmental development of the communities in which we operate
Education
Our aim is to facilitate students of government schools with a safe learning environment for skill development through holistic interventions in education, health and infrastructure. We offer innovative learning support in english, math through computers, life skills, sports and more, blended into the existing school schedule and enhanced by engaging extra-curricular activities – from education trips and summer camps to talent development and inter-school competitions. Enhancing our education programme are infrastructure-based solutions, designed to equip government schools with world-class resources and a firm foundation for sustained growth.
Our alumni programme for government school graduates also ensure a smooth transition from education to full employment with mentoring, scholarships, work placement and skills development.
In addition to our urban education interventions, we have also adopted 100 tribal schools in rural Karnataka to uplift them by providing equitable education.
To know more about our partners colours of life, careworks foundation and friends of tribals please visit:
Educational Interventions




Educational Out-bound Trips


Setting up Libraries, Science Labs & Computer Labs









Health & Hygiene
Embassy aims to improve lifelong resilience to illness and disease with end-to-end healthcare interventions for government school students, ensuring better educational outcomes and a brighter future for all. From preventive initiatives such as awareness, sports programme and nutritional support to comprehensive health screenings and medical interventions, we cover every aspect of the students' health and hygiene needs.
To deepen our impact, we have partnered with a consortium of corporates and NGOs including Cerner, Cognizant, Swiss Re and Bengaluru North Round Table Trust to enhance the health and hygiene conditions of 133 government schools in Bengaluru, Mumbai, and Pune.
Preventative Health & Hygiene Awareness
Government schools benefiting from our holistic health & hygiene programme also receive eight hours of preventative health awareness session throughout the school year. To encourage the inculcation of good hygiene habits, students also receive a health kit at the beginning of the year, which contains a toothbrush, toothpaste, a tongue cleaner, shampoo, bathing and hand-wash soap, antiseptic solution, a comb and a water bottle. Consumables such as toothpaste and toothbrushes are then replaced twice during the school year.

Annual Health Check-ups
Students also receive a comprehensive health screening along with an electronic health record for each child and a printed health report. Counselling for parents is also provided.

Medical Interventions
If health issues are identified among students during their annual check-up, they have the option of receiving free treatment at a partner hospital or mobile clinic.

Nutrition
As good nutrition is an important part of leading a healthy lifestyle, maintaining a healthy weight and reducing the risk of chronic diseases, we provide a nutritional snack to students after school thrice a week.

Sports
Sport is an integral part of the programme we offer in government schools, with an aim to encourage students to keep a fit and active lifestyle.

Clean Drinking Water & Handwashing Facilities
With the prevalence of water-borne diseases, we ensure that our government schools have access to clean drinking water and handwashing facilities.

School Maintenance, Repairs & Renovations
In addition to ensuring that the government schools we have adopted benefit from infrastructure upgradation, we also provide daily school and toilet maintenance to ensure that students receive an environment conducive to learning.
Sustainable Infrastructure
We drive positive change by providing infrastructure-based solutions with new frontline services for environmental sustainability and community healthcare and we deliver grassroot results to global problems in the communities we are a part of.
Embassy is a proud partner of TAICT's (The Anonymous Indian Charitable Trust) EcoGram Waste Management Project, which aims to catalyse communities to develop and implement strategic infrastructure for sustainable environmental management.
In addition to our Bengaluru Rural waste management initiatives, we also work to contribute to communities around our office parks through public space enhancement, clean-up drives that actively involve our corporate communities, improving access to healthcare solutions and provision of improved basic amenities for sustained community transformation.
Embassy sponsors free dialysis at the Sarvagna Healthcare Institute where over 10,000 patients have received free dialysis till date. In addition to the dialysis centre, Embassy also sponsors Sarvagna's Medicare Institute, which provides primary healthcare to underprivileged patients. Sarvagna works actively in the community through 5 trained Community healthcare Assistants, who make regular home visits to raise awareness about preventative healthcare, healthcare insurance schemes targeted towards the poor, and other social welfare schemes.
EcoGram
Initiated in 2016, EcoGram is a Sustainable CSR project of Embassy Group in partnership with The Anonymous Indian Charitable Trust (TAICT) that jointly aims to create an ecologically sound replicable model Gram Panchayat to propagate sustainable waste, water, and soil management. With current operations spread across 8 villages in the Bettahalasuru Panchayat, Embassy has invested nearly Rs. 1.9 Cr. over the last 4 years towards de-centralized solid waste management, where waste is sorted into 3 categories at source using the 2bin1bag methodology. The collected organic waste is then converted into compost, and the recyclable waste is sorted within the Gram Panchayat.
Since the inception of the programme, over 204 tons of dry waste and 215 tons of wet waste has been collected, with a 92% level of segregation and disposal. To complement the solid waste management and infrastructural solutions provided in the Panchayat, a strong emphasis is also placed on community engagement and awareness initiatives curated through women and children in the communities. Embassy is now expanding its solutions to the current waste management and water crisis facing Bengaluru.
The creation and completion of an Integrated Solid Waste Processing Centre, with a greater capacity for gathering and sorting waste, will enable the expansion of waste collection from the present 8 villages to 18 villages and neighbouring panchayats. The infrastructure for the centre will be developed by a village panchayat in partnership with Embassy, who will bear the entire operating costs. Included in the costs are utilities, equipment for waste segregation, staff salary, vehicles, and the management fee for the NGO partner, at a total budget of Rs. 1 Cr. annually.
Corporate Connect
41
Projects in Education, Health, Public Infrastructure and Covid-19 Relief
1500
Corporate Employees
Engaged
Partner With Us
To know more about the CSR activities of Embassy REIT or if you wish to partner with us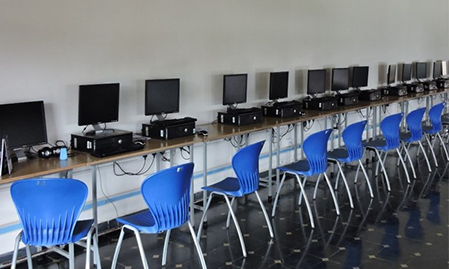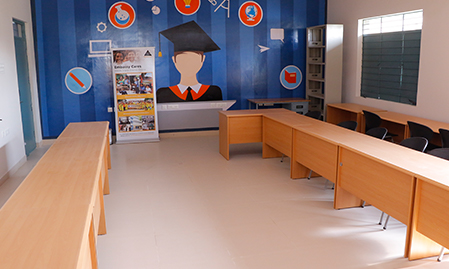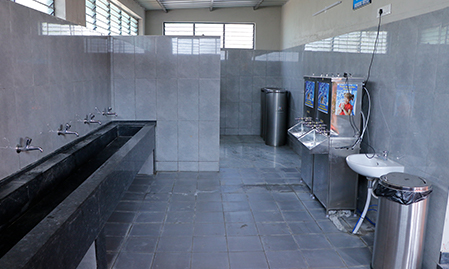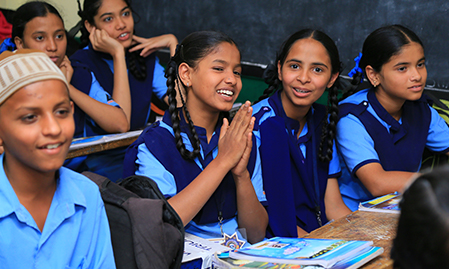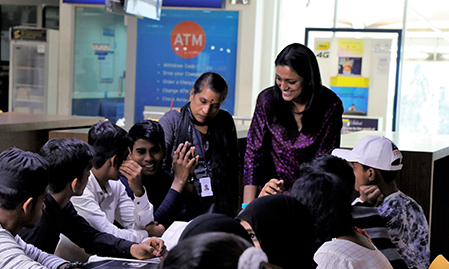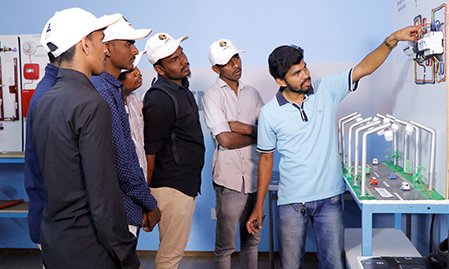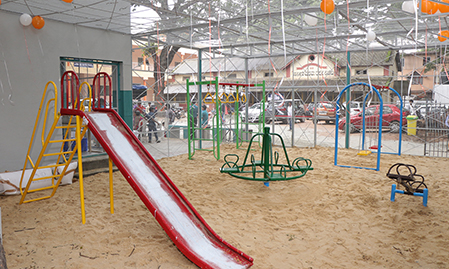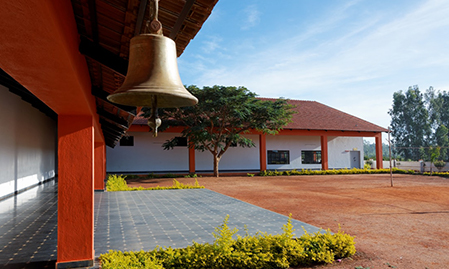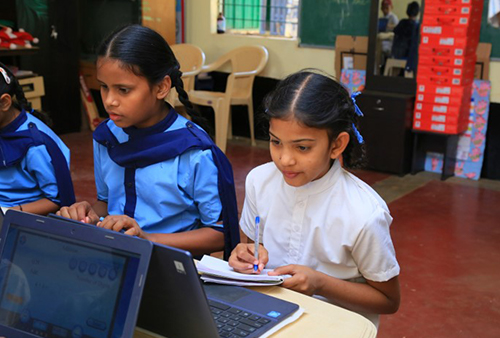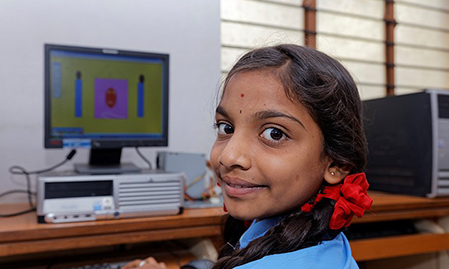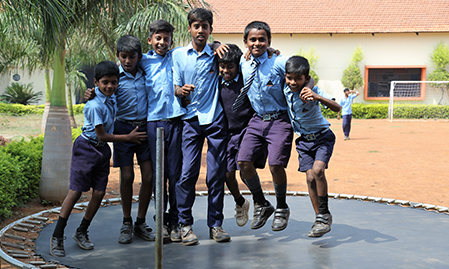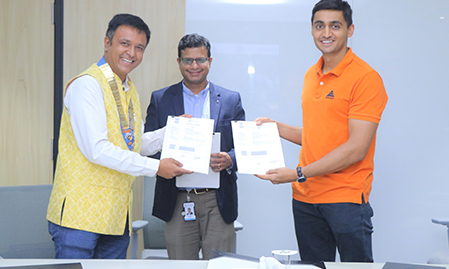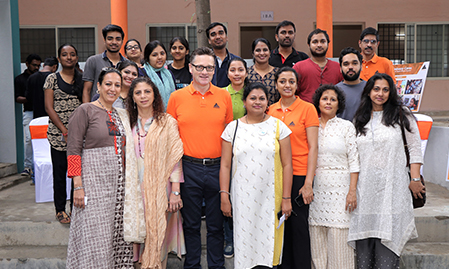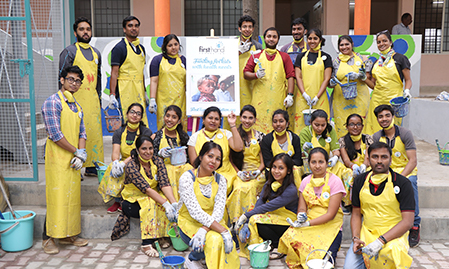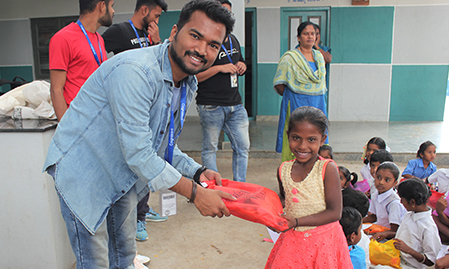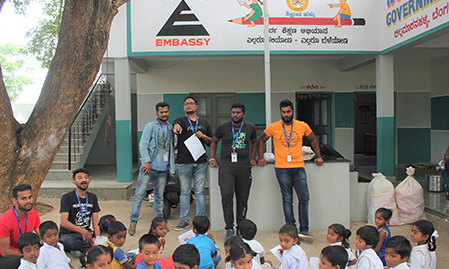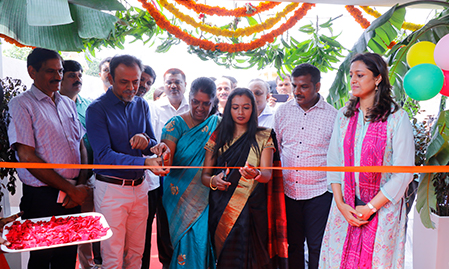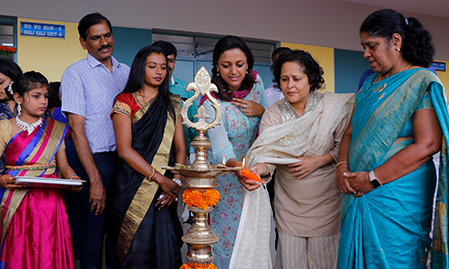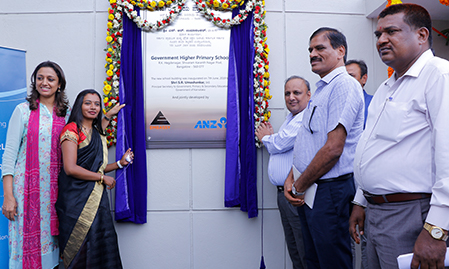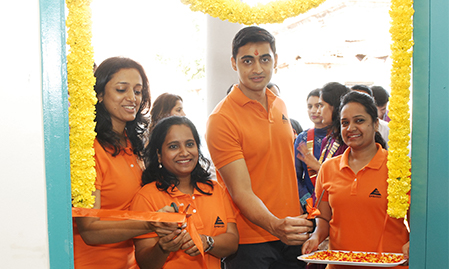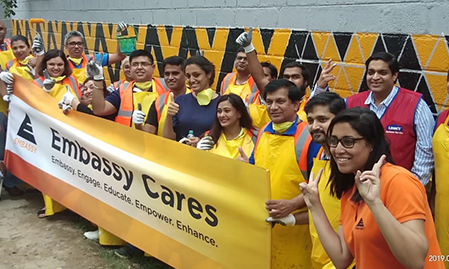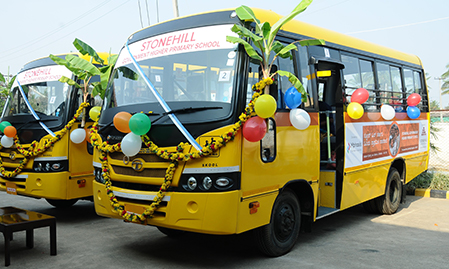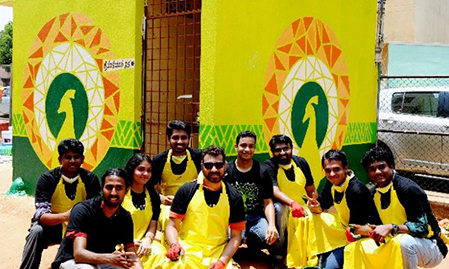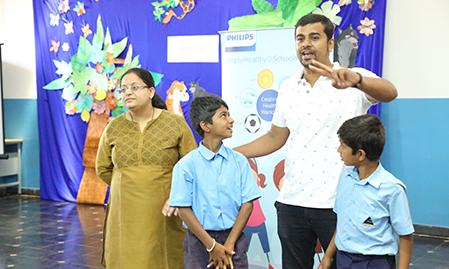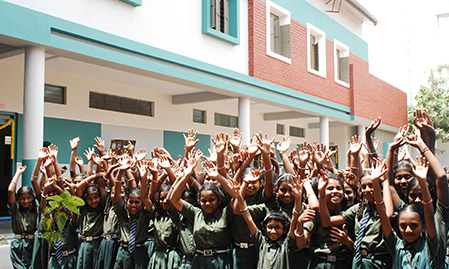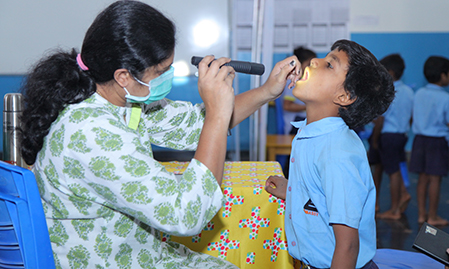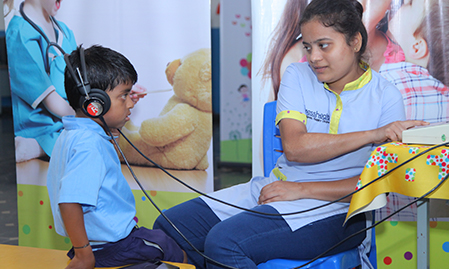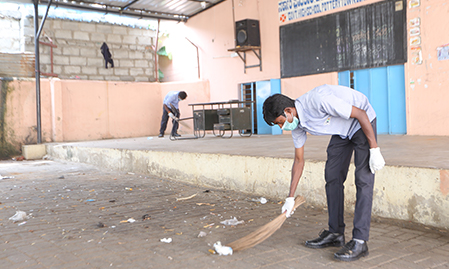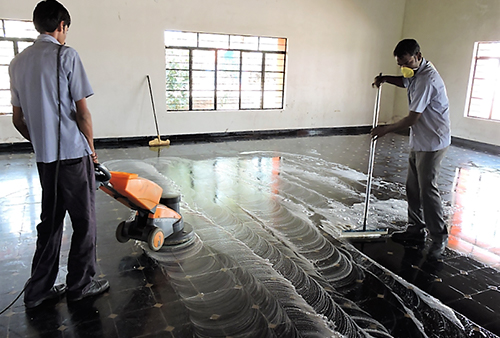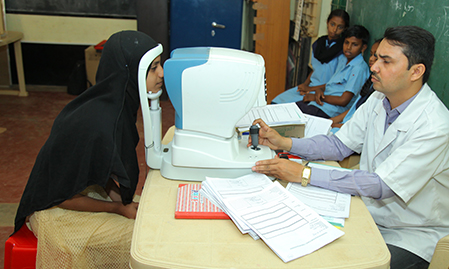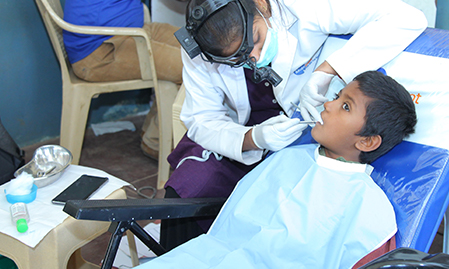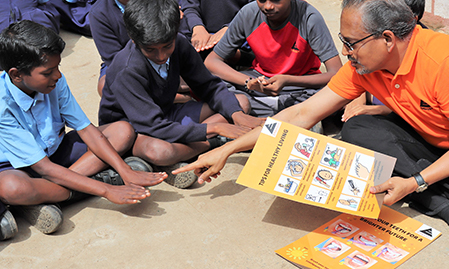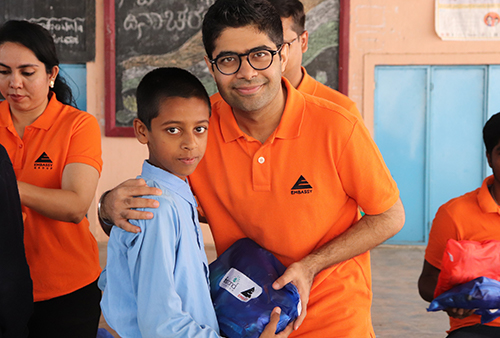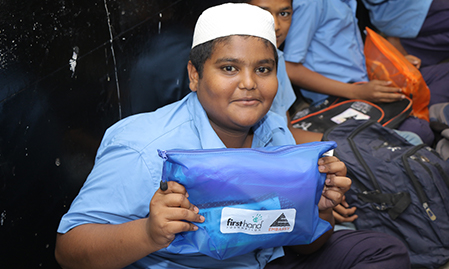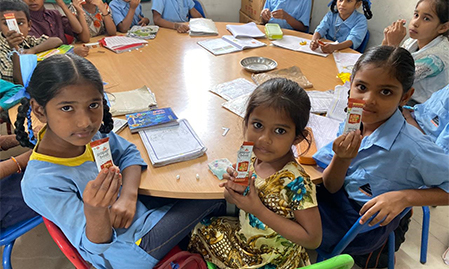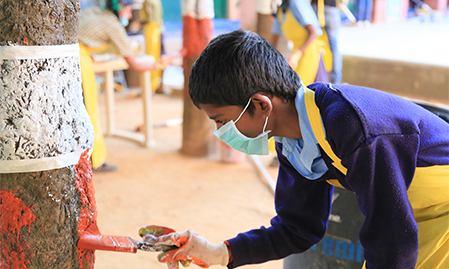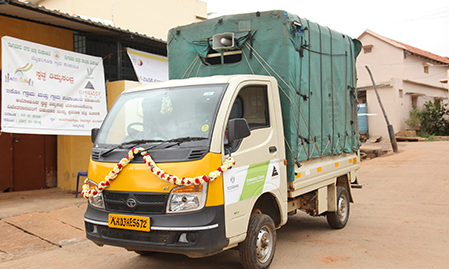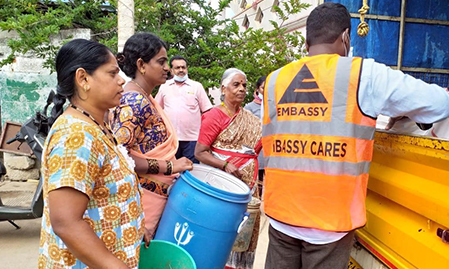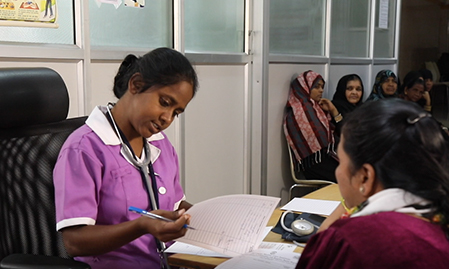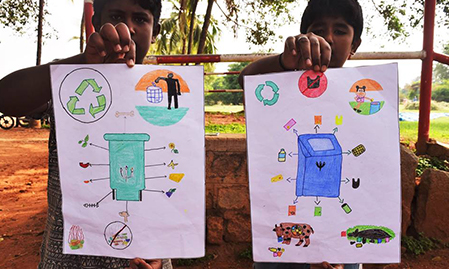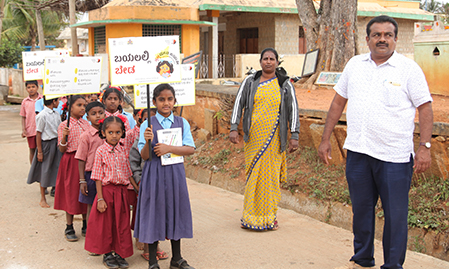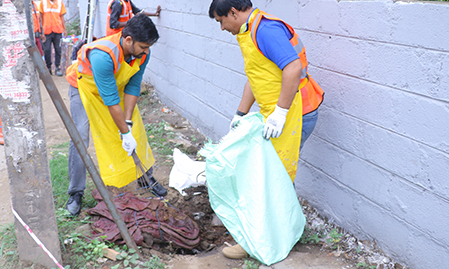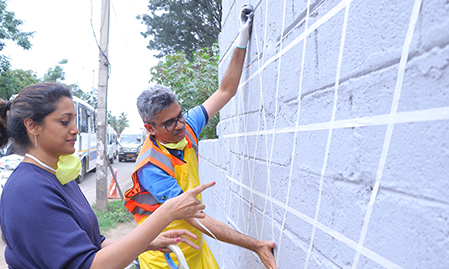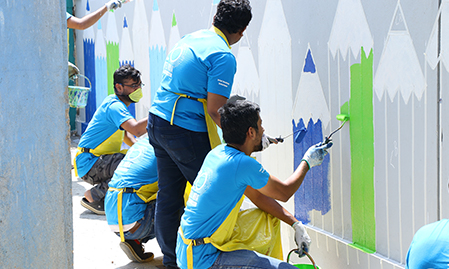 No videos
ANZ
Embassy has partnered with ANZ to transform the Government Higher Primary Schools in Hegdenagar. The two adjacent schools jointly house more than 1,200 students – the first phase of the project was completed in May 2019 with the Government Higher Primary School, Hegdenagar receiving a state-of-the-art school building comprising 15 new classrooms, a multi-purpose hall, a library, a computer lab, toilet blocks and accessibility facilities for differently-abled students. The second phase of the multi-year partnership kicked off in October 2019 with the new building of the Government Urdu Higher Primary School. The project will be completed in December 2020.
Cerner
Embassy and Cerner have created a consortium of corporates and NGOs to enhance the health and hygiene conditions of 133 government schools in Bengaluru, Pune, and Noida. Since 2016, Cerner and Embassy have worked together to provide free health check-ups and maintained a medical record for more than 4,000 students of 14 Embassy adopted government schools. With attendance levels in schools dropping, recurring conditions noted each year, and a general lack of understanding of preventative measures to combat common health problems, Embassy and Cerner invited other organizations to join them in combating these issues in a holistic manner.
Embassy Group, therefore, signed an MoU with Cerner and Bengaluru North Round Table Trust to implement a seven-step Health & Hygiene approach in the 133 schools.
Embassy and Cerner partnered with other corporates to support the Department of Education during the Covid-19 pandemic by providing sanitizers to 9.2 lakh students and invigilators sitting for their SSLC exams.
Cognizant
Cognizant and Embassy have actively worked to engage Cognizant employees to increase our societal impact. Cognizant joined Embassy and Cerner's health consortium to complement the existing interventions. Through their employee volunteer programme Cognizant Outreach, they have distributed health and hygiene kits to 550 students across six of the targeted government schools and have conducted short awareness sessions for them. Further, Cognizant joined Embassy in boosting awareness of waste management by including their employees in Ecogames, a community engagement event that encourages residents in North Bengaluru to be more aware of their environmental impact.
Embassy and Cognizant partnered with other corporates to support the Department of Education during the Covid-19 pandemic by providing sanitizers to 9.2 lakh students and invigilators sitting for their SSLC exams.
Mphasis
Seeking to plug newly identified gaps in education, Embassy joined Mphasis and Stonehill International School to provide two new school buses to Stonehill Government School, Tarahunise. Mphasis provided the buses and will be funding their costs for one year, while Stonehill International will manage them. The buses will help students overcome difficulties in commuting to school from rural villages and will boost attendance.
Philips
Embassy partnered with Philips India to run their SimplyHealthy@Schools Program for around 65 students during the summer camp at Stonehill Government Higher Primary School. Employee volunteers from Philips shared simple lessons on improving a student's knowledge of healthy living, including oral hygiene, hand-washing, exercise, nutrition and caring for one's own environment. The interactive session included a game to underscore the day's lessons, as well as a health kit giveaway.
NVIDIA
Around 300 employees from NVIDIA joined hands with Embassy and The Ugly Indians to provide the students of hedgenagar government higher primary schools with improved school infrastructure. The activities included re-painting and beautifying school walls and cleaning up the school premises.
Swiss Re
Our partnership with Swiss Re Foundation and the Bengaluru North Round Table involved the construction of the Government Model Girls Primary School, Devanahalli. Embassy provided project management and infrastructural expertise to oversee the end-to-end design and development activities. The project was completed in 7 months and includes classrooms, staff rooms, a library, science labs, a multipurpose hall, a kitchen, and a toilet block. After completion of the project, both partners will work together to provide holistic health and hygiene interventions that will positively impact around 260 students enrolled at this school.
Domlur Tech Hub Transformation
With our vision to enhance areas around our office parks, we joined hands with the Ugly Indians, Embassy employees and our corporate occupiers including Target, Swiss Re and the Hilton, to beautify the walls leading from the back entrance of Embassy GolfLinks Business Park to NAL Wind Tunnel Road. 50 volunteers joined us to clean, paint and better engage with the surroundings of the place where they work.
Hebbal Tech Hub Transformation
Embassy partnered with the Ugly Indians and corporates that occupy office space in Embassy Manyata Business Park to kick off the Hebbal Tech Hub Transformation. 19 CXOs from 8 corporates that included Cognizant, Lowes, L&T, Cerner and Mavenir were successfully mobilized to upgrade and paint the walls near the main entrance of the park.
Thank You
for the time you have taken to fill in the form and sharing your contact details. We value your thoughts and suggestions and will get back to you soon.