Maximising Growth Opportunities
We have identified both organic and inorganic avenues to grow our business in four strategic focus areas. Our aim is to maximise distributions and Net Asset Value (NAV) per unit. We also engage in proactive asset management to drive long-term value for our stakeholders.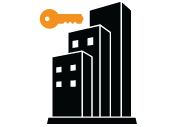 Powerhouse leasing
Our experienced leasing team maintains an occupier-centric approach to leasing and focuses on building long-term relationships with occupiers. Dedicated customer relationship management programmes have led to robust occupier engagement, which helps us anticipate occupier requirements. Our client-centric approach has led to strong occupier retention and enabled them to expand their operations within our premises. We typically target occupiers with higher value-add operations and services. We believe these occupiers prioritise the quality work environment, that our assets offer.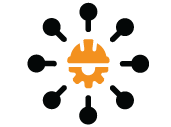 Active asset management
We continuously focus on enhancing our competitive advantage as part of our 'total business ecosystem' philosophy. We invest in ancillary amenities and select infrastructure and upgradation projects. Our scale allows us to leverage our asset management and operational skill sets to enhance our assets. This allows us to attract the best companies to our parks, command premium rentals, and deliver that value to our unitholders.

First-mover acquisition advantage
We intend to undertake acquisitions that enhance the value of our portfolio. We believe that owning the best assets in India's top submarkets will allow us to generate strong cashflow and deliver strong, long-term returns. We believe we are well positioned to undertake both core and value-add acquisition opportunities given our pan-India presence, knowledge of local markets, best-in-class asset management capabilities and deep occupant relationships.
Deliver on development
On-campus development presents an important de-risked growth lever for us. The REIT has approximately 7.9 msf of development within our parks, and we are able to activate development according to the needs of the market. We have a well-defined pre-leasing strategy to de‑risk development. We also undertake regular infrastructure upgrades and implement ancillary projects to widen our competitive moat around our infrastructure-like assets.

Prudent capital management
Our low leverage enables us to pursue accretive development and gives us ample headroom to raise debt to pursue inorganic growth through acquisitions. Additionally, we have access to sufficient liquidity, maintain a lean cost structure and are well positioned to withstand volatile leasing and financing markets.
*All data as of March 31, 2023