Embassy One is strategically located on the main road entering Bengaluru CBD from the international airport. It provides premium small format office space to corporate occupiers with the added benefit of being part of a mixed use project that also comprises a luxury Four Seasons Hotel.
---
Key Statistics
2017 Year of commencement

3.19 acres Site area

0.3 msf Leasable area

₹4,558 mnMarket value

0.3 msf Completed area

7 Occupiers

60% Occupancy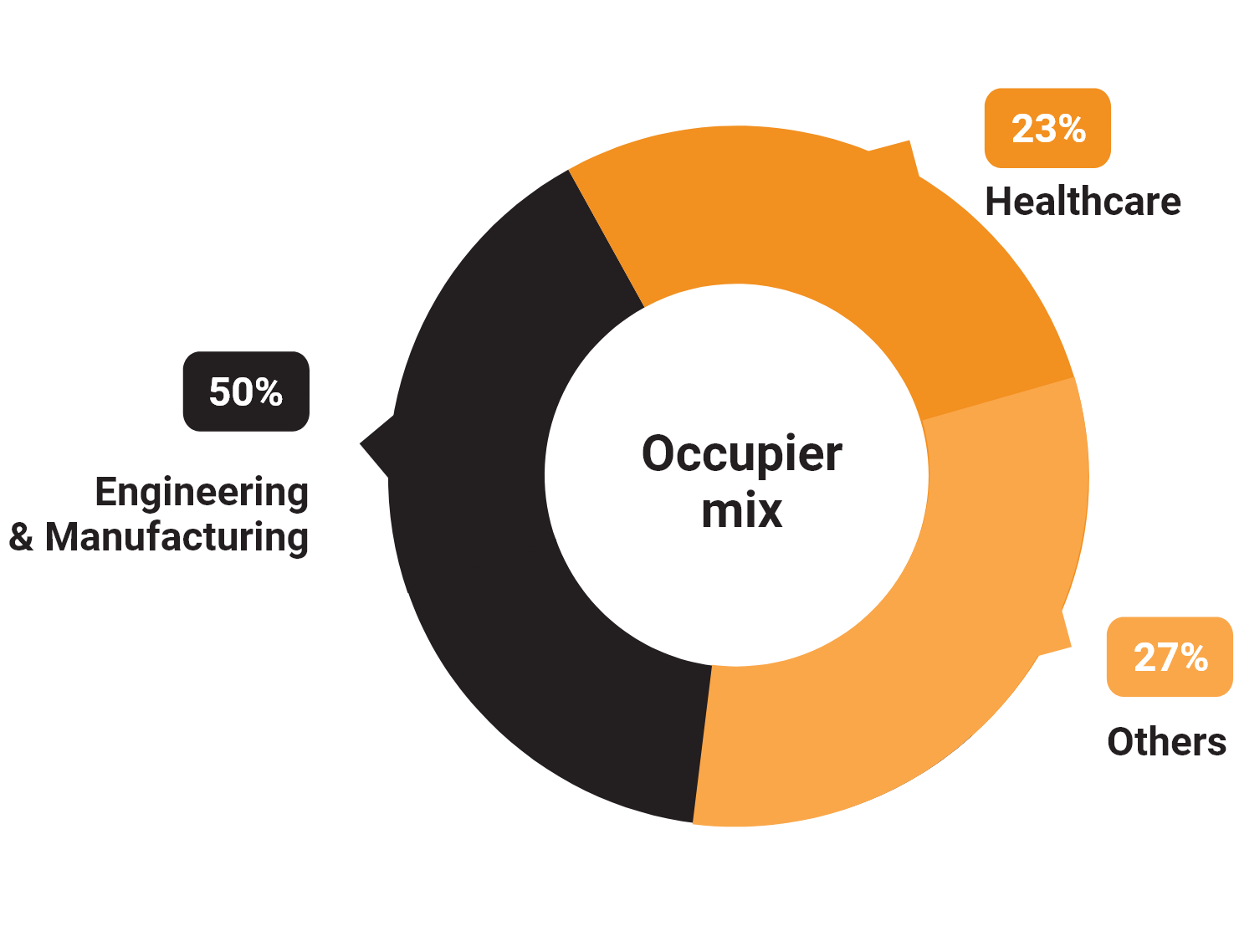 *All data as of Jun 30, 2023
Location
Embassy One is a high-end Grade A mixed-use property located on Bellary Road, one of the most premium residential neighbourhoods in Bengaluru. It is strategically located on the main arterial road between Kempegowda International Airport and the Central Business District (CBD). Embassy One is a landmark destination that will redefine the standards of living, leisure and work. The building overlooks the lush green spaces of the Palace Grounds and military land.
Green Campus
At Embassy One, Bengaluru we have taken numerous initiatives to make our buildings environment-friendly:
Rainwater harvesting capacity of 750 Kl

Organic waste convertor with a capacity of 350 kg/day

Overall sewage treatment plant capacity of 550 KLD

Recycling and waste management initiatives:

Recycled water from STP being used for flushing, landscaping and HVAC applications

Hazardous waste disposed to KSPCB authorized vendors

E- waste disposed to KSPCB authorized vendors
Master Plan
The property has 13 floors of commercial office space spanning an area of 1.5 msf and a 60,000 sq. ft. boutique retail development. It offers a premium lifestyle experience with best-in-class amenities.
Office Space Availability
Premises
Area
Status
Floor
Timeline

NON - SEZ

Pinnacle (15k x 2)
29,762 sq. ft.
Warm shell
12th & 14th Floors
Immediate
Pinnacle
8,030 sq. ft.
Warm shell
11th Floor
Immediate
Pinnacle
13,802 sq. ft.
Warm shell
10th Floor
Immediate
Pinnacle
9,886 sq. ft.
Warm shell
9th Floor
Immediate
Pinnacle (15k x 3)
44,643 sq. ft.
Warm shell
6th - 8th Floors
Immediate
Pinnacle
13,802 sq. ft.
Warm shell
5th Floor
Immediate
Pinnacle (15k x 3)
45,534 sq. ft.
Warm shell
2nd - 4th Floor
Immediate
Pinnacle
17,521 sq. ft.
Warm shell
1st Floor
Immediate
Four Seasons Luxury Hotel To Be Operational By FY 2019
55k sq. ft. of Retail Space On The Podium (upcoming)
Contact Us
Address
Embassy One Pinnacle
No. 8, Bellary Rd, Dena Bank Colony,
Ganganagar, Bengaluru,
Karnataka 560032,


+91 80 4722 2222