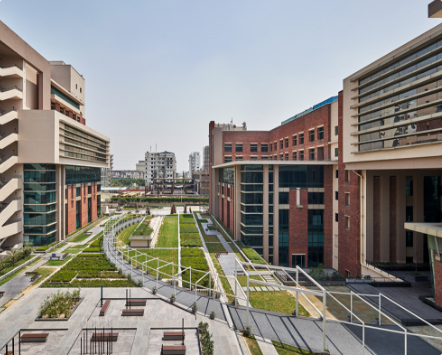 REPORTS RENTAL COLLECTIONS OF 97% ON 26.2 MILLION SQUARE FEET OFFICE PORTFOLIO
Embassy Office Parks REIT (NSE: EMBASSY / BSE: 542602), India's first REIT and largest in Asia by area, is pleased to provide the following update on its operations and financial position for the first quarter of financial year 2020-21.
Business Continuity
Our priority remains delivering a safe workplace and business ecosystem for our occupiers and their employees; a daily average of 13,000 employees operated in June 2020 from our properties across India
Our properties remained open in full compliance with all government regulations to support the business continuity of our occupiers; over 90% of our 160+ corporate occupiers continued to operate their core business functions in June 2020 from our properties across India
Rental Collections
Rental collections for 1Q FY2021 from office occupiers remained robust at 97%, with office rental collections at 98% for April 2020, 98% for May 2020 and 95% for June 2020 (as of July 18, 2020)
Rental increases of 14% on 1.8 million square feet across 22 office leases
Liquidity Position
Strong liquidity position with existing cash and undrawn committed facilities totaling ₹12.6 billion as of June 30, 2020
Strong balance sheet with ample liquidity and low leverage of 16% Net Debt to Total Enterprise Value ('TEV') as of June 30, 2020
Mike Holland, CEO of Embassy REIT commented, "Embassy REIT's robust rental collections for the quarter ended June 30, 2020, speaks to the trust we have built with our occupiers over many years, their appreciation of our COVID-19 operating response, and their dependence on the highest safety and quality standards which our total business ecosystem delivers. We continue to support our occupiers on their immediate focus of business continuity and employee safety and we are well prepared to meet the anticipated increased demand for institutional grade office space over the coming quarters given de-densification and increasing global demand for sophisticated technology solutions."
Embassy REIT will announce its detailed 1Q FY2021 business and financial performance update post Board Meeting scheduled in early August 2020. Embassy REIT will release the date and time of its 1Q earnings call in due course.
Disclaimer
This press release is prepared for general information purposes only. The information contained herein is based on management information and estimates. It is only current as of its date, has not been independently verified and may be subject to change without notice. Embassy Office Parks Management Services Private Limited ("the Manager") in its capacity as the Manager of the Embassy Office Parks REIT ("Embassy REIT"), and Embassy REIT make no representation or warranty, express or implied, as to, and do not accept any responsibility or liability with respect to, the fairness and completeness of the content hereof. Each recipient will be solely responsible for its own assessment of the market and the market position of Embassy REIT.
This press release contains forward-looking statements based on the currently held beliefs, opinions, and assumptions of the Manager. Forward-looking statements involve known and unknown risks, uncertainties and other factors, which may cause the actual results, financial condition, performance, or achievements of Embassy REIT or industry results, to differ materially from the results, financial condition, performance or achievements expressed or implied by such forward-looking statements. Given these risks, uncertainties, and other factors, including the impact of COVID-19 on us, our occupiers and the Indian and global economies, recipients of this press release are cautioned not to place undue reliance on these forward-looking statements. The Manager disclaims any obligation to update these forward-looking statements to reflect future events or developments or the impact of events which cannot currently be ascertained, such as COVID19. In addition to statements which are forward looking by reason of context, the words 'may', 'will', 'should', 'expects', 'plans', 'intends', 'anticipates', 'believes', 'estimates', 'predicts', 'potential' or 'continue' and similar expressions identify forward-looking statements.
About Embassy REIT
Embassy Office Parks is India's first publicly listed Real Estate Investment Trust (REIT). We own and operate a 33.3 million square feet (msf) portfolio of seven Infrastructure-like office parks and four city‑centre office buildings in India's best performing office markets of Bengaluru, Mumbai, Pune, and the National Capital Region (NCR). Embassy Office Parks' portfolio has 26.2 msf completed by area, runs at 92.8% occupancy as of March 31, 2020, and hosts many of the world's leading companies as occupiers. The portfolio also comprises strategic amenities, including two operational business Hotels (including the Four Seasons hotel at Embassy One), two under‑construction hotels, and a 100MW solar park supplying renewable energy to park occupiers.
For more information please contact:
Ritwik Bhattacharjee
Head - Capital Markets & Investor Relations

: ir@embassyofficeparks.com

: +91 80 3322 2222