BSI Assurance Certificate for Enviromental,
Social & Governance Processes

Setting Industry Benchmarks
India's first Publicly listed REIT
Embassy REIT is India's first publicly listed Real Estate Investment Trust. Embassy REIT owns and operates a 45.0 million square feet ("msf") portfolio of eight infrastructure-like office parks and four city‑centre office buildings in India's best-performing office markets of Bengaluru, Mumbai, Pune, and the National Capital Region ("NCR"). Embassy REIT's portfolio comprises 34.3 msf completed operating area and is home to 230 of the world's leading companies. The portfolio also comprises strategic amenities, including four operational business hotels, two under‑construction hotels, and a 100 MW solar park supplying renewable energy to tenants. Embassy REIT's industry leading ESG program has received multiple accolades from renowned global institutions and was awarded a 5-star rating both from the British Safety Council and GRESB. Embassy REIT was also recognised as the world's largest 'USGBC LEED Platinum-Certified' office portfolio (v4.1 O+M) by Green Business Certification Inc.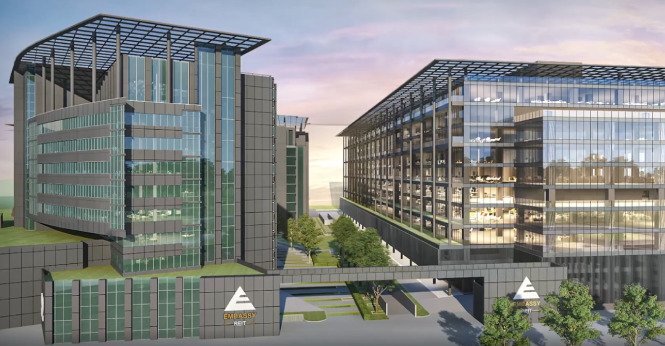 Embassy REIT's First Redevelopment Project At Embassy Manyata.
Embassy REIT's Corporate Connect Program
We are proud to celebrate the 50th project milestone of Embassy REIT's Corporate Connect Program. Through collective action driven by commitment, our CSR initiatives have positively impacted over 2 million lives. Watch the video to know more.
Key Commercial Markets
Quick Facts
Embassy REIT offers significant growth opportunities
msf
Portfolio*
Hotel Keys*
MW
Solar Park
%
Occupancy
Blue-chip occupiers
Years
WALE
₹34,195 mn
Revenue
From Operations
₹20,579 mn
Distributions
%
Net Debt to GAV
All data as of Mar 31, 2023
* Includes completed, under construction & proposed future development
Our Portfolio
A world-class portfolio for a high-quality work environment
PRESS RELEASES | June 05, 2023
PRESS RELEASES | April 27, 2023
PRESS RELEASES | March 28, 2023
Sustainability Initiative
Building a brighter future and empowering local communities
Embassy REIT drives positive change by providing infrastructure-based solutions with new frontline services for environmental sustainability and community healthcare
KNOW MORE
Our commitment to ensure a total business ecosystem finds expression in an array of programs to connect, engage and inspire tenants and their employees. A year-long calendar of activities, workshops, sports competitions and cultural events helps build a vibrant and happy community at Embassy REIT.